After the Second World War: 1945 until today
The new bridge soon became a popular destination for excursions.
UFA shot the film "Unter den Brücken" (Under the Bridges) here in 1944/45. And shortly before the War ended the German Army - retreating before the Red Army - prepared to blow the bridge up. However, an unexploded shell was quicker and the bridge was badly damaged at the end of April 1945. After the War, a makeshift wooden bridge was built parallel to the damaged steel structure in order to restore the important road link between Berlin and Potsdam. The steel bridge was rebuilt in 1947-1949 and was - shortly after the foundation of the two german states - reopened in December 1949 as the "Bridge of Unity". The border between the Federal Republic of Germany and the German Democratic Republic ran through the middle of the bridge.
From then on, it was primarily used by the Allies as a link between their Berlin sections and the military liaison missions in Potsdam. The residens of Berlin and Potsdam preferred to use the urban railway - the S-Bahn - to travel between the two cities.
On 27th May 1952 the bridge was closed to citizens of West Berlin and the Federal Republic of Germany. After the Wall was built on 13 August 1961 citizens of the German Democratic Republic were no longer able to use it, either.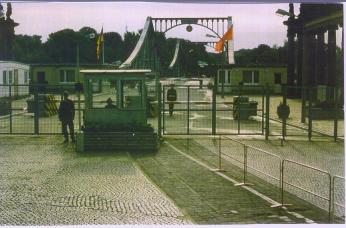 The border fortifications were perfected and the "Bridge of Unity" became a symbol of the division of Germany. The useful life of the steel structure, which had calculated at the time the original steel bridge was built, expired in 1977. The bridge startet to rust, the road surface was crumbling. A long dispute on the cost of repair and renovation ensued between the West Berlin government - the Senate - and the GDR. The half on the Berlin side was repaired in 1980 and, after the Senate had declared that it would pay for the repairs needed on the Potsdam side, the other half was renovated in autumn 1985. In return, the GDR made a concession: the bridge was again referred to as "Glienicke Bridge" officially from 1st December 1985 on.
In 1988 three citizens of Potsdam spectactularly broke through the border in a lorry. Many more tried and failed.
At 6 p.m. on 10th November 1989, one day after the "opening of the Wall", Glienicke Bridge was reopened for pedestrians; the border fortifications and barricades were dismantled following the unification of Germany on 3rd October 1990. Since then Glienicke Bridge has - leaving aside ist eventful history - been a bridge like any other.